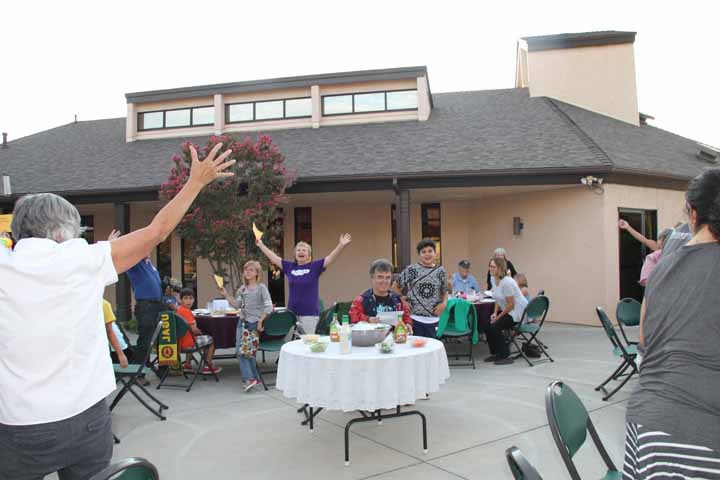 For the timebeing (while our county is on Shelter at Home and our students are out of school), The MIX will meet on Wednesdays on Zoom. To get the Zoom link, contact the church office at mail@atascaderoumc.org. The information below is for when The MIX children and the Youth Group met in person.
The MIX is our exciting mid-week program, in which our church buildings burst with the energy and laughter of children and teenagers. The first MIX Wednesday of the 2019-20 MIX year will be on Sept. 11.
The MIX: Kindergarten-5th grades, 4:15-6:45pm
Youth Group: 6th-12th grades, 5:30-7:45pm
The RULE of the MIX:
You are a child of God and I will treat you like one.
Jesus' ministry focused on teaching people what the Kingdom of God was like: non-competitive, inclusive, sharing, and life-affirming. The MIX is a metaphor for that Kingdom and is an alternative for children who are being reared in an image-based culture that's driven by competition, individualism, and consumerism. Based on a nation-wide proven church program called "LOGOS," we began our MIX with an in-depth training for adult leaders. After much prayer and preparation, we kicked things off in September 2011 and quickly doubled in size from what we had hoped for.
The goal of the MIX:
To grow intergenerational Christian relationships.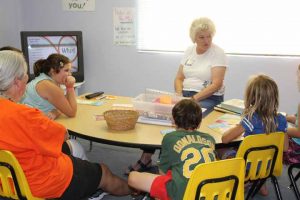 Throughout the school year, on most Wednesday evenings, children kindergarten through fifth-grade gather for age-based Bible study, recreation, and worship skills, such as choir, handbells, and drama. The fourth component and the centerpiece of the night is "Family Time," a sit-down dinner, complete with table parents and a special weekly theme carried out in decorations and table activities. Middle school and high school youth (sixth through 12th grades) meet from 5:30 to 7:30 p.m.
Relationships have bloomed at The MIX; children, youth and adults are spending time together sharing tons of fun. A program of this size takes a large team of committed adults; our adult/child ratio on Wednesday MIX nights is nearly equal, when we factor in adults who set the tables and kitchen teams who do the meal preparation and clean-up.
Any child is welcome to attend The MIX; families do not have to be church members in order to participate. We have found The MIX to be an excellent way to learn about Christianity, play together, get to know each other more deeply, and bridge the time in between Sundays. Email our MIX coordinator for more info at themix@atascaderoumc.org.
The MIX will run the first three Wednesdays of the month, September through April.
FIRST QUARTER
September Theme: Creation
Sept. 11, 2019
Lesson: "Lost Sheep and Lost Coin"
Scripture: Luke 15: 1-10
Menu: Hotdogs, buns, watermelon, chips, baked beans,
fresh corn (if available), salad bar, cake
Sept. 18, 2019
Lesson: "Pray for Everyone"
Scripture: 1 Timothy, 2:1-7
Menu: Spaghetti and Meatballs, Garlic bread, broccoli, fruit roll ups
Sept. 25, 2019
No MIX
October Theme: Stewardship
Oct. 2, 2019
Lesson: "Faith Passed Down"
Scripture: 2 Timothy, 1:1-14
Menu: Hamburgers, buns, chips, grapes, salad bar, Rootbeer floats
Oct. 9, 2019
Lesson: "Jesus Heals Ten"
Scripture: Luke 17, 11-19
Menu:Macaroni and Cheese, chicken nuggets,
fresh broccoli/cauliflower, salad bar, pudding
Oct. 16, 2019
Lesson: "The Widow and the Judge"
Scripture: Luke 18, 1-8
Menu: Corn Dogs, potato salad, carrots, salad bar, popsicles
Oct. 20, 2019
MIX Sunday
Oct. 23, 2019
No MIX
Oct. 26, 2019
Tri F's–Fun, Food & Fellowship–in fellowship hall from 4-6pm
Oct. 31, 2019
AUMC has booth at Trick or Treat on Entrada Avenue
SECOND QUARTER
November Theme: Thanksgiving
Nov. 6, 2019
Lesson: "The Sadducees' Question"
Scripture: Luke 20: 27-38
Menu: Pancakes, sausage, melon
Nov. 13, 2019
Lesson: "Working Together"
Scripture: 2 Thessalonians, 3:6-13
Menu: Thanksgiving dinner! Turkey, mashed potatoes, gravy, cranberry sauce, green beans, salad bar, pumpkin pie
Nov. 20 , 2019
Thanksgiving Song Rehearsal & Thanksgiving Potluck
Nov. 24, 2019
MIX Sunday ("First Song of Isiah" Performance)
Nov. 27, 2019
No MIX (Thanksgiving Break)
December Theme: Christmas/Advent
Dec. 4, 2019
Lesson: "Jews and Gentiles"
Scripture: Romans 15, 4-13
Menu: Fettuccini Alfredo, chicken tenders, garlic bread, broccoli/cauliflower,  cookies
Dec. 7, 2019
5:30-8:30pm
AUMC will have firepit & s'mores at Walk Around the Atascadero Lake
Dec. 11, 2019
Lesson: "John's Questions for Jesus"
Scripture: Mathew 11, 2-11
Theme: Christmas Around the World
Menu: Tomato soup, grilled cheese sandwiches,
fruit salad, salad bar, brownies
Dec. 13, 2019
5-9pm
AUMC will have a booth at Winter Wonderland in Sunken Gardens in downtown Atascadero
Dec. 14, 2019
Christmas Play Rehearsal, 10 a.m. to noon
Dec. 15, 2019
Children's Christmas Play
Dec. 18, 2019
Carols & Cocoa Potluck, 5:30 to 7:30 p.m.
Dec. 24, 2019
Christmas Eve services, 5:30 & 7:30 p.m.
THIRD QUARTER
Jan. 8, 2020
Lesson: "A Light to the Nations"
Scripture: Isiah 42, 1-9
Menu: Spaghetti and meatballs, broccoli and cookies
Jan. 15, 2020
Lesson: "The Lamb of God"
Scripture: John 1, 29-42
Menu: Tacos, rice, refried beans and churros
Jan. 22, 2020
Lesson: "United in Christ"
Scripture: 1 Corinthians, 1:10-18
Menu: Broccoli beer, white rice, fortune cookies, egg rolls and salad
Feb. 1, 2020
Family Movie Night
Feb. 5, 2020
Lesson: "Worship and Justice"
Scripture: Isaiah 58: 1-12
Menu: Baked potatoes with toppings, salad bar and sundaes
Feb. 12, 2020
Lesson: "Life With God"
Scripture: Deuteronomy 30: 15-20
Menu: Fish sticks, pasta, green beans, cupcakes and Swedish fish
Feb. 19, 2020
Lesson: "Glory on the Mountain"
Scripture: Exodus 24: 12-18
Menu: Chili, corn chips, carrot chips, salad and ice cream cups
Feb. 25, 2019
Shrove Tuesday Pancake dinner
from 5:30 to 7:30 p.m.
Feb. 26, 2019
Ash Wednesday service at 7 p.m.
FOURTH QUARTER
March 4, 2020
Lesson: "Jesus and Nicodeums"
Scripture: John 3: 1-17
Menu: Chicken soup, crackers, salad and dirt pudding
March 11, 2020
Lesson: "The Woman at the Well"
Scripture: John 4: 5-42
Menu: Pulled pork sandwiches, coleslaw, corn on the cobb, salad and brownies
March 14, 2020
Hike & Picnic, meet at the church at 9am to carpool
March 18, 2020
Lesson: "Samuel Annoints David"
Scripture: 1 Samuel, 16:1-13
Menu: Taquitos, Spanish rice, refried beans, salad bar, apple slices and churros
April 1, 2020
Lesson: "Matthew's Holy Week"
Scripture: Matthew 21:1-11, & 26:14 -27:66
Menu: Ham, pineapple, vegetables, salad bar and strawberry sponge cake
April 5, 2020
Last MIX Sunday
April 8, 2020
MIX Celebration
Pizza and brownies or cookies
April 12, 2020
Easter Sunday & Easter Egg Hunt
April 22, 2020
Volunteer Appreciation
June 22-26, 2020
Vacation Bible School
To subscribe to The MIX email list, CLICK HERE.
To pay registration fees, CLICK HERE ($35/quarter for one child; $65/quarter for 2 children; $90/quarter for 3 or more children from the same family–get a $5 per quarter per child savings when paying for the year in advance)
Bus option: To make it easier for parents that work, we will have volunteers waiting for the school bus at Paloma Creek Park to walk the children from the bus stop to the church. For students that attend schools in the Atascadero Unified School District, they can ride the bus from their school to the hub on West Mall between Atascadero Middle School and Atascadero Fine Arts Academy and get on the bus for Route 9 that goes to Paloma Creek Park. Please let us know if your child will ride the bus.