<! ========= Cool Timeline Free 2.7.1 =========>
AUMC History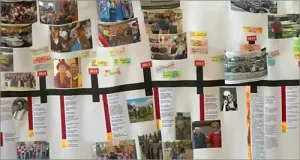 First Steps
The Pacific and Southwest Annual Conference of the United Methodist Church has announced the appointment of the Rev. Rollin W. Dexter to become the organizing pastor of a new United Methodist Church in Atascadero. Rev. Dexter's appointment becomes official on July 1st. Dexter brings with him 32 years of experience in a wide range of appointments including five years as a missionary in Latin America. He comes to Atascadero from San Fernando where he was the senior pastor. Prior to that he served on the Central Coast as pastor of the St. Andrew United Methodist Church in Santa Maria.
Cabinet letter
As you know, the Cabinet has appointed the Reverend Rollin Dexter to begin a new church at atascadero as of July 1, 1979. It is for this reason that I would like to request the Congregational Development Department a grant of $300 to cover the basic essential preliminary ex-penses, which he will incur as he begins to canvas the community. The District Union will make a matching grant to the Atascadero church. If you need more information regarding this request, please contact my office or the Reverend Dexter. His new address is at: 1402 The Pike, Oceano, CA 93445, phone 805-499-0709. Thank you for your assistance.
[dnxte_timeline _builder_version="4.19.1″ _module_preset="default" theme_builder_area="post_content" background_color="#e0e0e0″ admin_label="Next timeline" hover_enabled="0″ sticky_enabled="0″ dnxte_triangle_color="#E02B20″ dnxte_circle_width="31″ timeline_bar_color="#E02B20″ timeline_bar_enable_color="on"][dnxte_timeline_child timeline_title="Title Goes Here" timeline_content="
Your content goes here. Edit or remove this text inline or in the module Content settings. You can also style every aspect of this content in the module Design settings and even apply custom CSS to this text in the module Advanced settings.
" timeline_button_text="Read more" timeline_date="start" _builder_version="4.19.1″ _module_preset="default" theme_builder_area="post_content" title_text="SSPTsaile2016-36sm" timeline_main_image="http://atascaderoumc.org/wp-content/uploads/2020/11/SSPTsaile2016-36sm.jpg" hover_enabled="0″ sticky_enabled="0″ timeline_icon="||fa||900″ timeline_bg_color="#01676F" timeline_bg_enable_color="on" content_text_color="#FFFFFF" timeline_icon_color="#FFFFFF" timeline_icon_position="27px" timeline_icon_size="40px" icon_bg_color="#E09900″ icon_bg_enable_color="on" timeline_icon_padding="40px|46px|40px|46px|true|true"][/dnxte_timeline_child][/dnxte_timeline]