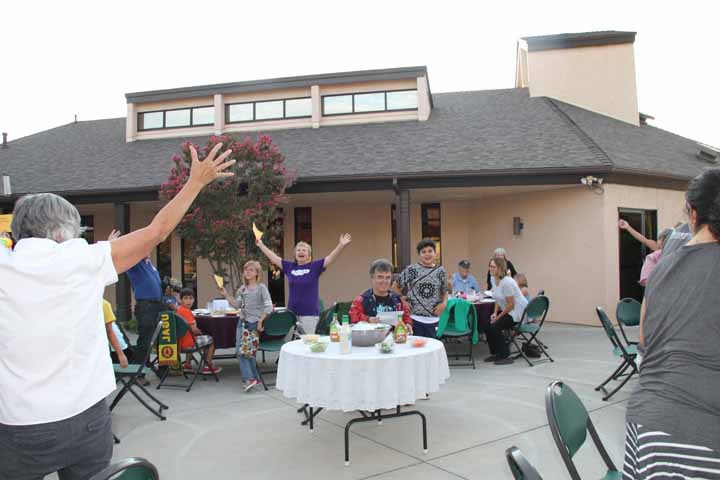 The MIX is our exciting mid-week program, in which our church buildings burst with the energy and laughter of children and teenagers. The first MIX Wednesday of the 2017-18 MIX year will be on Sept. 13.
Jesus' ministry focused on teaching people what the Kingdom of God was like: non-competitive, inclusive, sharing, and life-affirming. The MIX is a metaphor for that Kingdom and is an alternative for children who are being reared in an image-based culture that's driven by competition, individualism, and consumerism. Based on a nation-wide proven church program called "LOGOS," we began our MIX with an in-depth training for adult leaders. After much prayer and preparation, we kicked things off in September 2011 and quickly doubled in size from what we had hoped for.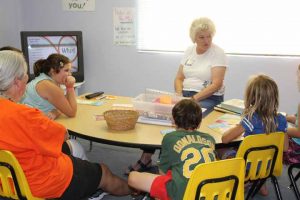 Throughout the school year, on most Wednesday evenings, children aged 3 through high school gather for age-based Bible study, recreation, and worship skills, such as choir, handbells, and drama. The fourth component and the centerpiece of the night is "Family Time," a sit-down dinner, complete with table parents and a special weekly theme carried out in decorations and table activities.
Relationships have bloomed at The MIX; children, youth and adults are spending time together sharing tons of fun. A program of this size takes a large team of committed adults; our adult/child ratio on Wednesday MIX nights is nearly equal, when we factor in adults who set the tables and kitchen teams who do the meal preparation and clean-up.
Any child is welcome to attend The MIX; families do not have to be church members in order to participate. We have found The MIX to be an excellent way to learn about Christianity, play together, get to know each other more deeply, and bridge the time in between Sundays. Email our MIX coordinator, Heather Young, for more info at communicationsaumc@gmail.com.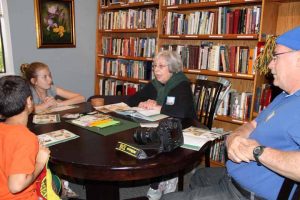 In addition to the MIX, families with young children plan occasional get-togethers and the teenagers of the church enjoy special events such as overnights, pool parties, and lunches out.
The MIX will run the first three Wednesdays of the month, September through April.
Schedule for The MIX:
FIRST QUARTER
Sept. 13, 2017
Lesson: The Unforgiving Servant
Scripture: Matthew 18:21-35
Theme: Happy Birthday!
Menu: Hot dogs, baked beans, corn on the cob, chips, salad bar & birthday cake
Sept. 20, 2017
Lesson: First and Last in the Vineyard
Scripture: Matthew 20:1-16
Theme: Play Doh Day
Menu: Taquitos, rice, refried beans & shredded cheese, salad bar, rice crispy treats
Sept. 24, 2017
MIX SUNDAY
Oct. 4, 2017
Lesson: Rejection in the Vineyard
Scripture: Matthew 21:33-46
Theme: Pirate Night
Menu: Hidden Treasures Meal—Corn dogs, potato salad, salad bar, rice crispy treats
Oct. 11, 2017
Lesson: Rejoice in the Lord Always
Scripture: Philippians 4:1-9
Theme: Rainbow Night
Menu: Macaroni & cheese, chicken nuggets, salad bar, fruit cocktail, instant pudding
Oct. 18, 2017
Lesson: A Question About Taxes
Scripture: Matthew 22:15-22
Theme: Pumpkin Party
Menu: Pasta with chicken and veggies, salad bar, garlic bread, angel food cake topped with slightly thawed berries and whipped topping
Oct. 22, 2017
MIX SUNDAY
SECOND QUARTER
Nov. 1, 2017
Lesson: Humble & Exalted
Scripture: Matthew 23:1-12
Theme: Guest Night/Backwards Night
Menu: Waffles, sausage, fruit & whipped cream, popsicles or ice cream sandwiches
Nov. 8, 2017
Lesson: Ten Bridesmaids
Scripture: Matthew 25:1-13
Theme: Veteran's Day
Menu: Spaghetti & meatballs, garlic bread, steamed broccoli and cauliflower, salad bar & fruit roll-ups
Nov. 15, 2017
Lesson: Parable of the Talents
Scripture: Matthew 25:14-30
Theme: Thanksgiving
Menu: Thanksgiving dinner: Turkey, stuffing, mashed potatoes & gravy, corn, cranberry sauce, salad bar and pumpkin pie.
Nov. 19, 2017
MIX SUNDAY
Dec. 6, 2017
Lesson: John the Baptist
Scripture: Mark 1:1-8
Theme: Neon Night
Menu: Make your own pasta salad, salad bar, and Dirt Pudding
Dec. 13, 2017
Lesson: Justice & Jubilee
Scripture: Isaiah 61:1-4; 8-11
Theme: Angels Everywhere Night
Menu: Chicken soup, fresh carrots, crackers, salad bar and dessert
Dec. 17, 2017
MIX SUNDAY–Christmas Program
Dec. 20, 2017
CAROLS & COCOA
THIRD QUARTER
Jan. 10, 2018
Lesson: In the Beginning
Scripture: Genesis 1:1-5
Theme: Favorite Animal Night
Menu: Fettuccini Alfredo, garlic bread, salad bar, apple slices
Jan. 17, 2018
Lesson: God Calls Samuel
Scripture: 1 Samuel 3:1-20
Theme: Winter Wonderland
Menu: Lasagna, steamed veggies, garlic bread, salad bar, snowmen sundaes
Jan. 24, 2018
Lesson: John in Nineveh
Scripture: Jonah 3:1-5; 10
Theme: Jonah & the Whale
Menu: Fish sticks, fish crackers, fruit salad, salad bar, yellow cake decorated with Swedish fish candies
Jan. 28, 2018
MIX SUNDAY
Feb. 7, 2018
Lesson: Elijah & Elisah
Scripture: 2 Kings 2:1-12
Theme: Chinese New Year
Menu: Sweet & sour Pork, egg rolls, fried rice, steamed or sautéed veggies, salad bar, fortune cookies
Feb. 14, 2018
Lesson: God's Covenant with Noah
Scripture: Genesis 9:8-17
Theme: Valentine's Day
Menu: Chicken and dumplings, biscuits, salad bar, heart cookies
Feb. 21, 2018
Lesson: The Faith of Abraham
Scripture: Romans 4:13-25
Theme: Crazy Shoe Night
Menu: Tacos, rice, refried beans, salad bar, fruit, churros
Feb. 25, 2018
MIX SUNDAY
FOURTH QUARTER
March 7, 2018
Lesson: Moses and the Bronze Serpent
Scripture: Numbers 21:4-9
Theme: Crazy Nose Night
Menu: Chili, bread sticks or crackers, veggies with dip, salad bar, Sand pudding
March 14, 2018
Lesson: Jesus Predicts His Death
Scripture: John 12:20-33
Theme: Planting Seeds Night
Menu: Tomato soup, grilled cheese sandwiches, salad bar, and fruit salad for dessert
March 21, 2018
Lesson: Mark's Holy Week
Scripture: Mark 11:1-11; 14:1-15; 47
Theme: Space Odyssey Night
Menu: Ham steaks with pineapple, mixed veggies, rice, salad bar and dessert
March 25, 2018
MIX SUNDAY/PALM PARADE
April 1, 2018
EASTER SUNDAY
April 4, 2018 (this is Spring Break week)
Lesson: Early Believers Share
Scripture: Acts 4:32-35
Theme: Crazy Hat Night
Menu: Baked Potatoes topped with bacon, Steamed Broccoli, Cheddar Cheese Sauce, Sour Cream and Butter, Garlic Bread, dessert
April 11, 2018
Lesson: Jesus Appears to Disciples
Scripture: Luke 24:36b-48
Theme: Crazy Tie Night
Menu: Surprise Dinner
April 18, 2018
Lesson: The Good Shepherd
Scripture: John 10:11-18
Theme: Tie Dye Night
Menu: Hamburgers, chips, fresh veggies, fruit fresh, salad bar, s'mores
April 22, 2018
MIX SUNDAY
April 25, 2018
MIX Celebration, 5-7pm
Menu: TBA
Documents for THE MIX
Register a child (3 years of age through 12th grade):
Mix Registration 2017-18 & Medical Photo and Liability Release 2017-18
Volunteer:
MIX Volunteer Registration 2017-18
Bring a Guest
MIX Guest Permission Form
To subscribe to The MIX email list, CLICK HERE.
To pay registration fees, CLICK HERE ($35/quarter for one child; $65/quarter for 2 children; $90/quarter for 3 or more children from the same family–get a $5 per quarter per child savings when paying for the year in advance)