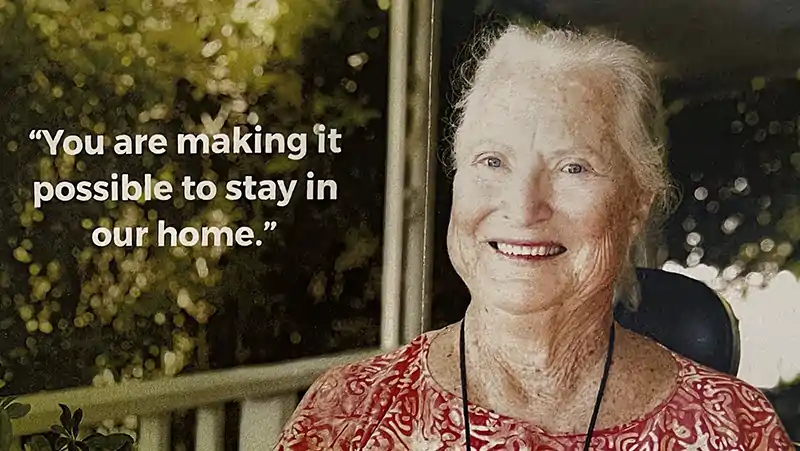 Meals That Connect
Sub
14% of seniors in SLO County don't get enough food. 39% of seniors sacrifice food to pay for medical care. Many seniors cut out meals so their animal companions can eat. The mission of Meals That Connect: To enhance health, restore dignity, support independence, and reduce isolation for every San Luis Obispo County resident in need who is at least 60 years of age by providing meaningful connections and free, hot, noon-time meals delivered to community dining sites or at home. Call us today! 805-541-3312
"As a daughter of elderly parents, I really appreciate that they get a hot nutritious meal five days a week." Meals That Connect serves hot, nutritious noontime meals to over 500 seniors throughout San Luis Obispo County. For free. Every day. These meals don't just provide necessary nutrition to the seniors in our county. They provide a community. Every weekday, seniors gather together at dining rooms throughout the county to eat together, share stories and build friendships. For those who are unable to leave their homes, volunteers personally deliver meals, using those visits as opportunities to check in on the seniors.
Sponsor a senior All donations to Meals That Connect are tax deductible and used directly for seniors here in San Luis Obispo County. Ensure that a senior in our county has a meal every day for: Ono month Three months $250 Six months One year $500 $1,000 You can mail checks to: Meals That Connect 2180 Johnson Avenue San Luis Obispo, CA 93401 Or visit meaisthatconnect.org.
Than k you for joining with us to support SLO County's seniors.